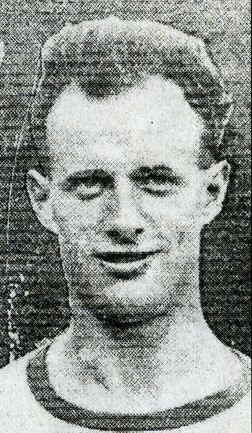 Paddy Anglim was born in Rosegreen on 6th September 1904. He was from a farming background and was the eldest in the family. In the long jump he broke 23 feet repeatedly in national and international competitions. He was also a good sprinter and hurdler, and was the best in the country at the time with the pole vault setting Irish records. Paddy was in the Irish team at the 1928 Olympics in Amsterdam, competing in the long jump. With a jump of 6.81m he finished twenty first out of forty-one competitors.
He first appeared at the Irish Athletic Championships at Croke Park in Jume 1928 with a winning long jump of 23ft 4.5 ins, a mark not reached in the National Championships since as far back as 1906. This was the first of his many Irish Championship wins, and in all he won seven long jump titles [1928, 1931, 1932, 1933, 1934, 1935, 1936] and four pole vault titles [1931, 1932, 1933, 1934]. He narrowly missed out in qualifying for the 1932 Olympic Games in the long jump when at the Irish Olympic trials the standard was an exceptional 23ft 10ins – and Paddy landed out over the 24ft mark, fell back on one hand and the measuring tape had to be put on the hand mark, which was 23ft 8ins from the board.
One of the best jumps of his athletics career was his 24ft 6ins jump at Tipperary Town on 24th August 2934. He could throw the javelin over 150 feet, he was a handy sprinter, a 37 feet shot putter and 5ft 7ins high jumper, once recorded 15.8 seconds in the 120 yards hurdles, and on 23 August 1931 at the Templemore Garda Sports he jumped 11ft 7ins in the pole vault, beating his own Irish record. For this performance at Templemore he secured the special prize of a nice suit length of Ardfinnan tweed.
A fine athlete and character, Paddy travelled to Wales in August 1934 to complete in the Swansea Valley Athletic Sports where he not only broke the Welsh long jump and pole vault records but he also won the shot putt and discus events. He took part in the 1936 Irish All Round Championships, or the decathlon, held at Killarney Stadium and finished second to Ned Tobin, a native of Ballylooby.
Paddy was a member of the Garda Siochana and served early in his career in Co. Wexford, and later in Clonmel, and was stationed in Puckane, Nenagh for many years prior to his death. Garda Paddy Anglim died on 3rd March 1954 aged 49 and is buried in Rosegreen Cemetary.